According to the general knowledge and the price of electricity and gas, using electric cookers may be more expensive than using their gas alterative. However, with our current shift from fossil fuels to electricity, buying and electric cooker is a natural move. Easy Buy will provide you with pay weekly electric cookers thanks to the option of spreading the cost and electric cookers pay outright if you prefer to pay the whole amount at once.
Choose pay weekly electric cookers and help the environment
Although the price of gas is lower than the electricity price, having an electric cooker at home may be the sign of an eco-friendly family. It is much easier to control temperature in electric ovens and cookers thanks to digital thermostats. The ceramic hob of pay weekly electric cookers allows you to boil water really quickly, especially with rapid cooking zones. Hence, you can not only help the environment but also save your precious time.
How to buy electric cookers on finance?
Buying electric cookers on finance at Easy Buy couldn't be easier. Choose one of our electric cookers you like the most, add it to the cart and select your repayment option. You merely have to choose the number of weeks you are willing to pay the amount over for. If you decide to buy one of the cookers, remember to check the final price, which will include the interest charge. The fewer weeks you pay over, the less interest you pay.
No interest charge with electric cookers pay outright
When buying electric cookers pay outright the price is lower as it doesn't contain interest charge – you just pay the price of the cooker. What do you actually get buying an electric cooker? A hob for boiling, a traditional oven and an oven with a grill function. A ceramic hob looks pretty elegant and gives a touch of luxury to your kitchen. With rapid cooking zones, you can prepare your pasta in no time. The bigger your family is, the bigger the oven capacity should be. Check the selection of electric cookers pay outright with double ovens thanks to which you can prepare two different dishes simultaneously. If one of the ovens has a grill function, you will prepare everything you can only imagine.
Maybe pay monthly electric cookers are for you?
If you prefer paying your bills once a month, decide to buy one of the pay monthly electric cookers. The procedure is as simple as with the pay weekly option – add the cooker into the cart and choose one of the repayments options.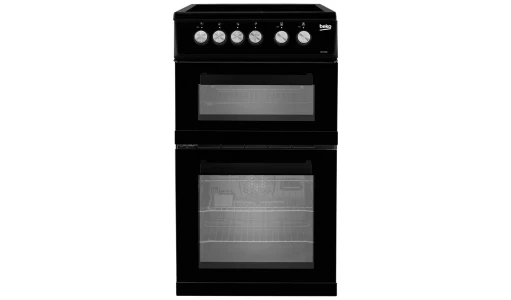 Black Only
Availability: In Stock