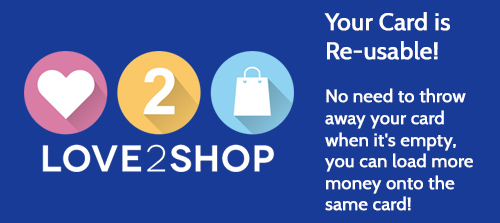 Spend at a fantastic range of high street stores and attractions. The perfect gift for family and friends of all ages.
Why not get yourself a Love2Shop Voucher, that can be used in over 90 Stores, and can exchange for e-gift cards in 30+ brands. These include many top brands including Argos, M & S, Matalan, Iceland, Amazon, B&Q, Primark, and so on.
Not only that, we now offer the ability to top up your card, so no more throwing away your Love2Shop card once you've got it.*
Safe And Secure
Cards can be activated remotely for added security
Keep your Card & Reload
No need to throw away your card when it's empty, you can load more money onto the card.
Replaceable
Block, cancel and replace cards if they're lost or stolen. (Fee Applies)
Top Retailers - Big Choice
Cards are accepted at many of the same retailers that accept Love2shop Vouchers
Spend Online or exchange for E-Gift Cards
You can use the Love2Shop Cards to pay for things online or exchange for e-gift cards at well known retailers.
Check My Balance
To check the balance on your card please Click Here

!
* Terms & Conditions Apply
Spend your Love2Shop at these retailers & more
Terms & Conditions
New Customers can purchase up to £250 maximum.
Existing Customers can purchase upto £500 maximum.
Minimum spend £50, spending in increments of £50.
At Christmas time spending increments can be reduced to £10 if required, please ask at point of sale.
No deposit required.
No arrangement fee.
Easy Buy Terms & Conditions apply.
Representative APR 262.18%.
Cards expire within 3 years, please check the expiry date on the card.
Payments Calculator
Use our simple steps to make a simple choice for your repayments.
Select number of weeks to repay from

13, 26, 39 or 52

weeks
Enter the price of the cards.
Adjust the number of weeks until your happy with the repayment options.
Press "Apply Online" and we will get back to you within 2 working days.
Fixed rate p.a. calculation: Total Interest divided by cash price divided by term expressed in years.