Is there anything more pleasant than resting on your sofa after a long and stressful day at work? Imagine a lazy afternoon with a cup of tea or coffee with your feet comfortably propped up. You don't have to wait to make this dream come true with our wide selection of sofa beds on finance and sofa beds pay weekly. Visit Easy Buy right away.
Start relaxing with sofa beds on finance
The lack of money will never make you resign from your dreams and comfort – purchasing at Easy Buy means you can spread the cost and with our selection of sofa beds on finance you can choose how long you will pay it over for. To select the best sofa bed for you, start from deciding on its most basic function in your house. If you want to use the sofa to watch a film, a two-seater sofa will be enough for you. However, if you plan to organise parties for your friends who will be seated on the sofa, you should invest into three of even four-seater option.
Sofa beds pay monthly

as a modern addition to your living space
Sofa beds can refresh the look of your living space so choose the style of sofa beds pay monthly with great care. Plush velvet used as the body fabrics will look modern and a little posh. Add up wooden accents and you get a piece of furniture nobody can take their eyes off. The colour of the fabric should be compatible with the walls colour. Don't choose too bright colour if your walls are already bright and colourful but quite the opposite – select light and delicate colour then.
Sofa beds pay weekly

perfect for your guests
If you are among the group of the people who prefer paying their bills weekly, sofa beds pay weekly from Easy Buy Hull are just for you. Your guests can sit on the sofa bed in the evening, enjoying the time spent together, and in return you can offer them accommodation to prevent them from coming back home late at night. A small sofa bed will turn into a full size bed with its effortless day to night option. With Easy Buy you can have a sofa bed which will meet all your requirements.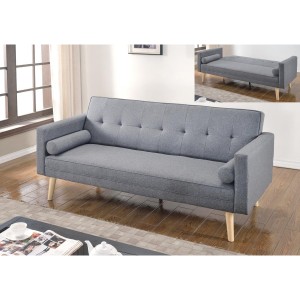 Dark Grey or Light Grey
Availability: Special Order
6-12 Weeks